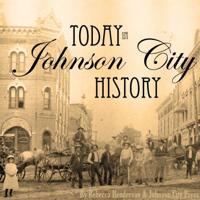 Today in Johnson City History: February 18 | Living
February 18, 1897: One hundred and twenty-five years ago today, The Comet aired several stories of interest to residents of the Johnson City area; several advertisements were interspersed among the news.
"NL Murrell was down from Elizabethton on Tuesday."
"NGT Simerly of Allentown was in town this week."
"Mr. AJ Patterson was in town on Saturday.
"Will Brownlow was visiting his sister, Mrs. Thad A. Cox, this week.
"The Street Committee had a new bridge built over Brush Creek (sic), on Roan Street (sic) this week."
"Mathes & Gump received another shipment of fine apples from Castile, NY last Saturday."
"All Watauga Bank depositors are hereby advised to file their claims." WB St. John, who was the assignee, signed this article.
"Mr. JT Browning is at home now and will be staying during the recess of the legislature.
"There are twenty-eight prisoners in the Jonesboro County Jail. Of that number, Johnson City contributed two-thirds.
"The ME Wolfe Furniture Co. placed an order for 150 beds with a Knoxville company last Monday."
"GW St. John, of Watauga, sold a large steer here on Monday that weighed 1465 lbs. It is the heaviest ever sold on this market.
"SB White wants to shut down all heaters and he's reduced the price so anyone (sic) who needs a stove can buy."
"Summers, Barton & Lyle have thrown away their books and adopted a coupon system which is one of the most convenient arrangements ever tried in the city. It is not only a great convenience for the company in the distribution of its constantly growing business, but it gives the customer the advantage of a small percent.
"Harry Miller and Chas. Biddle have each gotten them a beautiful mandolin and will soon be ready to serenade all the sweethearts in town.
"JE Brading has returned from Chattanooga after a few days of visiting Mrs. Brading, who is wintering with her father."
Former Judge Lynn Brown reports that what was Allentown is now part of present-day Hampton, a community in rural Carter County.
Jonesboro was spelled this way in 1897.
Jeff Aiken, former president of the Tennessee Farm Bureau Federation, says a steer weighing 1,465 pounds today is much more common than in 1897.
SB White & Company remains in business today.
Summers, Barton & Lyle was a hardware company.
February 18, 1922: A century ago today, the Johnson City Chronicle reported: "Charitable leaders report demands being made heavier than at any time in the organization's history. Substantial aid was given to the poor through the distribution of charcoal, food and some clothing. Over the past 45 days, more than eighty families have been helped by the organization.
"Supper. Clemons and Treasurer Pouder state that the large and numerous requests for help must be attributed to the fact that during the cold weather many men were out of work. There is also much sickness. The request is made that the Subscribers to the Charitable Associations Fund pay their dues at this time or if there are any who have not subscribed, they are invited to do so through the works managers.February 18, 1947: Seventy-five years ago today, the Johnson City Press-Chronicle alerted readers: "Members of the Johnson City Junior Chamber of Commerce at a dinner last night at the John Sevier Hotel approved the building of proposed community recreation and adopted it as their initial project.
"The group's action followed discussion and recommendations from special committees appointed by Joe Milner, chairman, to investigate the proposed building."
"Howard Johnson, director of recreation, and JM Carter, chair of the structure's advisory committee, outlined the movement's plans and reported on the progress already made."
"Milner said the Jaycees – the city's newest civic group – voted to support the project 100% and inaugurated their movement with (several undecipherable words) certificates of membership."
"Johnson told members that while other civic bodies had helped support the movement, the Jaycees were 'the only organization 100% underwriting in all respects'."
February 18, 1972: Fifty years ago today, in an article with Henry Samples byline and a Nashville date, the Johnson City Press-Chronicle reported: "Proponents of locating a medical school in Johnson City have agreed here yesterday from a public hearing on their measure that would lead to the establishment of such a school.
"Sen. Marshall Nave, R-Elizabethton, requested the hearing before the Senate Ways and Means Committee on Finance to allow the "man on the street" to express his opinion on Tennessee's medical needs.
"The public hearing is scheduled to be held in the Senate Chambers at 3 p.m. Wednesday CST."
"'I don't think this hearing is necessary at all,' Nave said, 'because the need for more family doctors is an established fact.'"
"But I think the hearing will show that the state can indeed run a second medical school at such a low cost that it would be foolish of us to pass up this opportunity," he said.
"The hearing will focus on a Senate bill that will appropriate $500,000 for East Tennessee State University to establish a medical school."
Five hundred thousand dollars in 1972 currently equals approximately $3.3 million, according to www.dollars2013.com.
February 18, 1997: Twenty-five years ago today, Tom Hodge wrote about woolly worms in his Johnson City Press column. Readers learned: "An entomologist – that's a fancy name for someone who studies insects – conducted a scientific study on the woolly bear for eight years. He set out to examine the caterpillar's 13 stripes – red-brown or black – to see how they really related to winter weather.
"Typically, the stripes at the ends of the caterpillar are black and the middle one is brown or orange, giving the woolly worm its distinctive striped appearance."
"According to folklore, the wider the medium brown, the milder the coming winter will be. A narrow band, a harsh winter.
"The entomologist, Dr. CH Curran, found that the width of the middle band varies from 5.3 to 5.6 of the total of 13 segments. The corresponding winters were mild. Well, now that would seem to prove folklore.
"Later examinations of woolly worms or bears have been about 80% accurate. Shit, that probably would have beaten the US Weather Service.
"But I hasten to point out that Dr. Sandra Glover of Appalachian State University in Boone, North Carolina, had her classes do a study for several years on woolly worms collected from afar – hundreds of They computerized their findings. If I remember correctly, woolly worms were pretty good at predicting our winters.