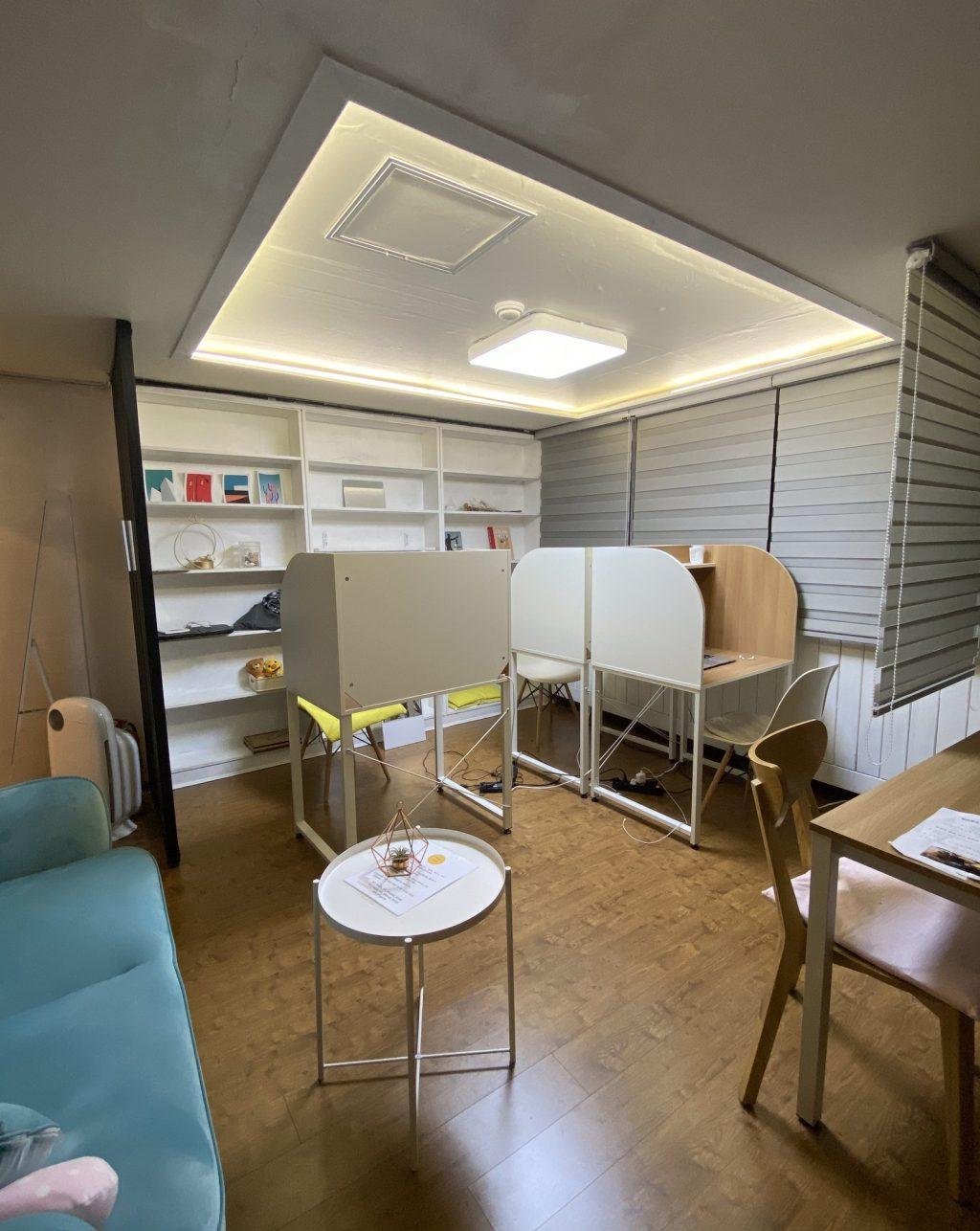 Share a space with a language barrier ‹Pepperdine Graphic
Art by Leah Bae
Photos by Claire Lee

Before booking my shared house, a living space shared by a group of people, I thought about both the challenge of having a language barrier and the opportunity to learn from native Koreans. My life experience in this share house was more opportunistic than stimulating, and it provided me with more than a place of living and cultural exchange.
The flat share I am staying in Hongdae has five large bedrooms for several roommates, a separate bathroom and shower room, a living room and a kitchen. The shared spaces allowed me and my roommates to interact with each other and bond.
When I first moved in, I observed the practices of the people in my share house while remaining mostly silent so as not to stand out as a foreigner and a newcomer. I had the chance to say hello to all of my roommates throughout the first couple of weeks, but I usually had to take the initiative to start the conversation.
One of my first conversations was when I was taking an online course next to another roommate in the common living room. Although we haven't said hello yet, she offered me a Korean snack. I introduced myself after happily accepting his offer, and we started talking about what we were studying. Although our conversation was short, his kind gesture of sharing a snack spoke to me a lot more than his words.
Another friendship started when I saw a roommate making sandwiches in the kitchen. I asked her where the best and closest grocery stores were, and she offered to show me around her favorite markets in the area. Later we went with another roommate to do grocery shopping together, and now the three of us go out often.
Cooking food in the kitchen and eating together was the best icebreaker. Together, we have concocted simple dishes such as Budae jiggae, Doenjang Jiggae and Okonomiyaki.
Several roommates moved in after me, including a Japanese exchange student who has been studying in Korea for two years and a Russian exchange student who has lived in Korea for five years. I speak English comfortably with them and the three of us can practice Korean.
Being American in Korea certainly has its advantages, as the English language has truly become an international language. Although most of the native Korean people in my roommate have studied or are studying the English language, not all of them are comfortable practicing it casually.
The language barrier made it difficult for me to share certain stories when I am with native Koreans. While I understand the gist of what they are saying, there are times when I don't understand all the details, so I try to use contextual clues or ask for an explanation.
During a dinner for example, I was able to understand that the films referenced were "Howl's Moving Castle"and"Abducted as if by magic"After hearing key words such as the name" Howl "and the word pig in context. Growing up listening to Korean has helped me piece together Korean conversations, but it's still difficult to fully understand and communicate back.
During Chuseok, also known as Korean Thanksgiving Day, almost all of my roommates have left to spend time with their families. Only two of my roommates and I stayed in the shared house, where we celebrated the holidays together with Chuseok style food including songpyeon and jeon.
Most of our dinners are hosted by the popular South Korean Baedal food delivery system, which is used almost any time of the day. Ordering food for large orders is much cheaper than smaller orders, which is a valid excuse to eat together.
Living in a shared space can also create shared tensions. When two roommates got into an argument, one of them quickly moved out after contacting the manager of the house. I was sad to see her go as we bonded over several meals, but I knew it would be better for her and the other members of the share house.
This share house allowed me to discover the different lifestyles of Korean students. Being able to understand the basics of Korean allowed them to open up to me about their family dynamics, their academic pressures, their professional life and their personal values. They are caring, hardworking and outgoing people with whom I have become close over time.
Due to the online courses, I often write or study at home. My roommates often share snacks with me, encourage me or help me take a break from my studies. I love chatting with them because they always have something interesting to share.
After spending almost two months in this share house, I forged bonds with my roommates who make me want to stay longer in Korea. Even with less than a month left until the semester ends, I hope to continue to make memories with my roommates and be as good a friend to them as they have been to me.
____________________
Follow the graphic on Twitter: @PeppGraphic
Email to Claire Lee: [email protected]


Keywords:
Overseas South Korea Series
college life
Students
food
international friendship
Language barrier
Seoul
shared house
South Korea