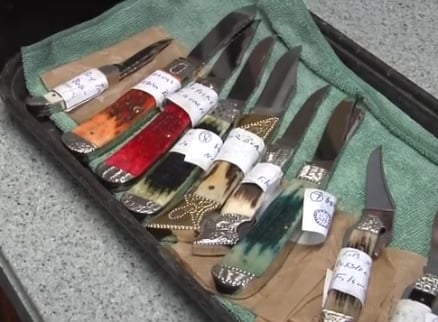 Read more about the story with Staley: making knives
FLINTSTONE, Ga. (WDEF) — "I realized I was good at it. Or I can be good at it.
He's good at it all! History indicates it! Because Michael Prater is really good at making knives. Specifically, the manufacture of knife handles. With originality and creativity.
Prater started making and selling knives in the 1980s. Moving into this relatively small store in Flintstone, Georgia in the late 90s.
He even surprised himself with the success at hand.
"I felt like I could make a living out of it. But I didn't know that I would employ 15 people. To do the work that we do.
And the work continues. Highligths. During the strong and dark days of COVID-19, Prater's business has remained busy. Remarkably, as busy as ever.
In fact, his store only closed for a day. There is a reason for this. A major reason.
"We discovered that we are an essential company. We supply to hardware stores. Hardware stores are essential.
The company from Prater manufactures more than 20,000 knives a year. Sale to collectors and the general public. And he did it all without any publicity. All word of mouth.
Many of its products supply other companies. Like Frost Cutlery here in Chattanooga.
Michael says he's always amazed at how many people are interested in knives.
But he says the road has been long and joyous. And at 70, a cancer survivor, with a booming business, he has no intention of slowing down!
"I feel better than I look!!"
From Flintstone, Dave Staley, News 12. >