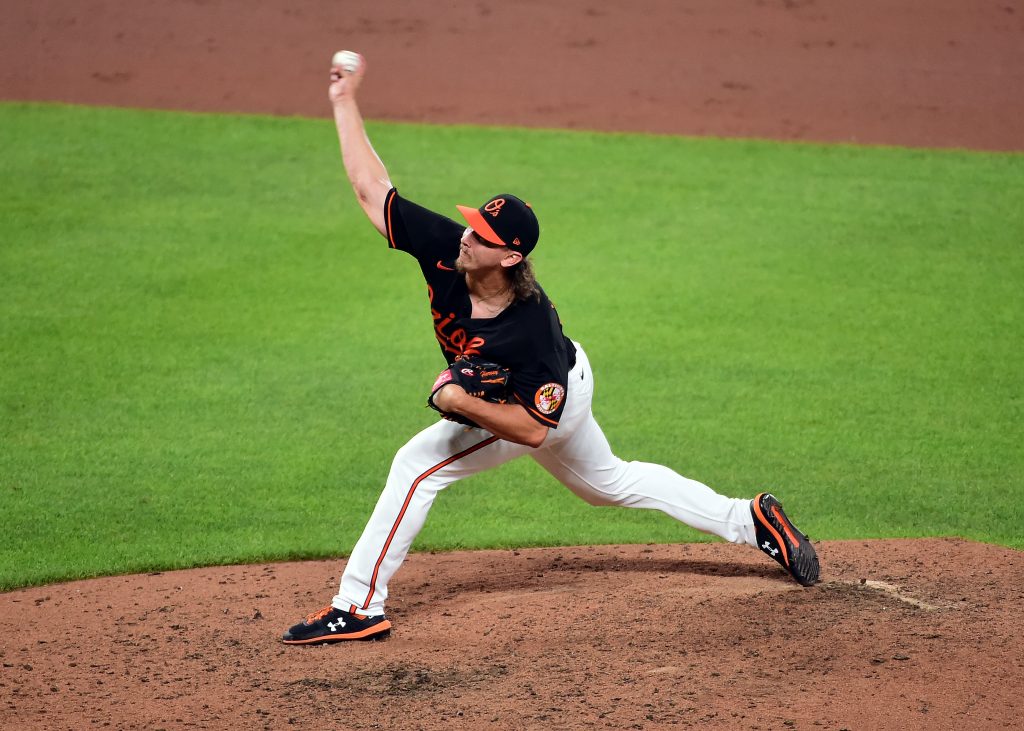 Nationals claim Hunter Harvey; Carter Kieboom at 60 Days IL
The Nationals claimed the right-hander Hunter Harvey on Giants waivers, according to a club announcement. In order to open a spot on the 40-man roster, third baseman Carter Kieboom was placed on the 60-day injured list with what the team called a UCL right sprain/flexing mass strain.
Harvey is a former first-round pick and top prospect who once seemed like an important part of the Orioles' long-term plans. His professional career was disrupted by injuries, however, as he landed on the minor league injured reserve every season between 2014 and 2018. This included a July 2016 Tommy John procedure that kept him at 31 1/3 of cumulative innings between 2016-17.
Baltimore eventually moved Harvey to the bullpen in an attempt to keep him healthy, though it hasn't yet manifested in better results in that regard. He missed the majority of last season recovering from oblique and lateral strains. Between injuries, Harvey only managed to record 23 2/3 innings at the big league level.
Despite his questionable health record, the North Carolina native has continued to attract the attention of teams. San Francisco took him off waivers for the Orioles in November, but they'll lose him before he registers an inning in their uniform. It's easy to see why Harvey has yet to cross the wire unclaimed, as he boasts a 3.42 ERA while averaging north of 97 MPH on his heater in his limited time in the big league. If he can stay healthy — which is clearly no small caveat — it's still easy to picture Harvey as a productive mid- or late-inning arm. He also has an option year left in the minor league, so the Nats can move him between Washington and Triple-A Rochester for the rest of the year if they put him on the 40-man roster.
Kieboom is a former first-rounder and top prospect himself. He struggled to hit a .197 / .304 / .285 line in his first 414 MLB board appearances, but the 24-year-old still seemed to have a path to regular playing time at a Nationals club in retrofitting this year. Unfortunately, he recently suffered a forearm/elbow injury while throwing, and MLB.com's Joe Trezza tweet that he will need to rest for at least six weeks before he can resume his baseball activities.
It's a tough setback for Kieboom and the Nationals, as 2022 promises to be a breakthrough year for the young infielder. The Nats don't appear to be serious playoff contenders this season, but they're not about to embark on a rebuild with Juan Soto only under club control for three more seasons. Assessing whether Kieboom could be part of the long-term core seemed like a key focus for the Washington front office, but that will be on hold for at least a few months. With Kieboom released, Luis Garciaveteran utility Eire Adrianza and off-list guest Maikel Franco all seem to have an easier path to playtime in the hot corner at the start of the year.