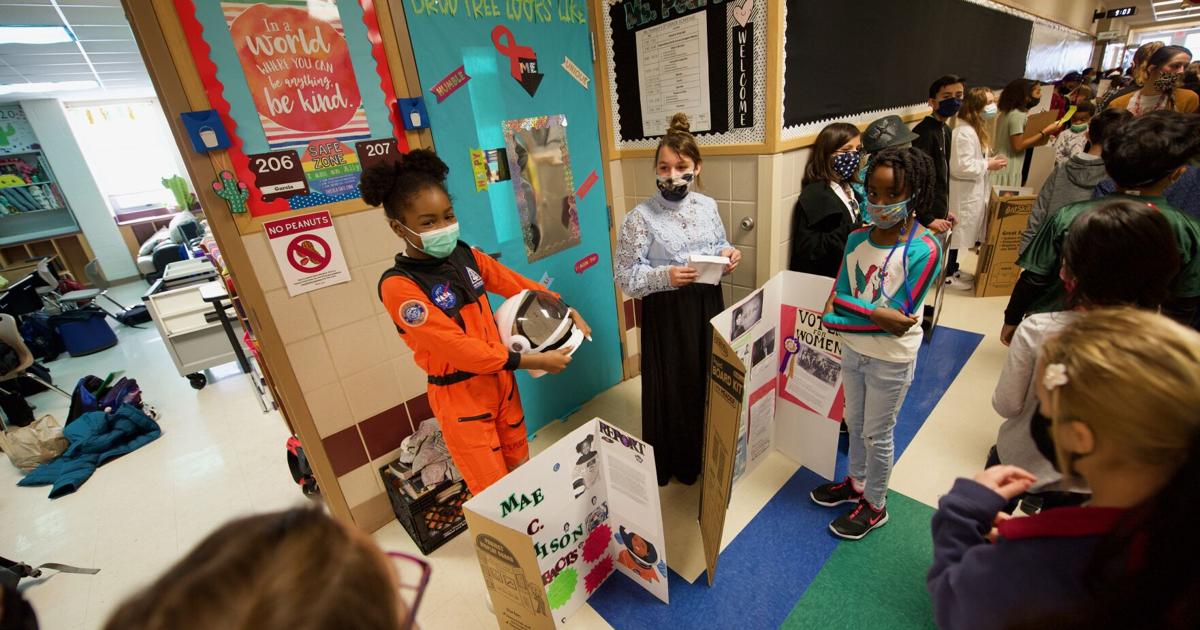 Meadows Living Museum Celebrates Black History | Living
Fifth-grade students from Meadows Elementary School shared their historical research with their younger peers Feb. 21-March 1 at a living history museum.
Students dressed as characters and prepared sets and billboards featuring a variety of African American contributors to politics, entertainment, and civil rights.
Tarae Moreland said she was in awe of her subject, Madame CJ Walker, who was orphaned at an early age and overcame discrimination based on her race and gender to become the first African-American woman millionaire by developing projects hair care.
"It's her self-confidence," said Moreland, that led her to success.
Janiya Simpson discovered that NASA astronaut Mae Jemison was inspired by the Star Trek TV show to pursue a career in science.
"She followed her dreams," said Simpson, who wore an orange NASA jumpsuit her mother bought online.
Aaron Leclerc took on the persona of John Lewis, the civil rights leader who participated in famous peaceful protests like "Bloody Sunday" and who also served in the United States House of Representatives.
"The most interesting thing about him is that he was stopped 45 times and kept going," Leclerc said. "He called it good trouble."
"He continued because he was encouraged to make a difference," he said. "When he learned about segregation, he wanted everyone to be equal."
The teacher, Nicole Garcia, said her students study a lot of cultural heritage during the school year and are happy to share their research.
"It gives them an unbiased look at someone in the story," she said. "They are getting into it. They put on their costumes and memorize lines. They are very eager to learn and see the projects of others.
During the last week of February through March, fifth-grade classes took turns presenting their characters for young students to investigate.
Vurtis Ross took on the identity of Octavius ​​Catto, an educator, soldier, activist and baseball player.
"I also want to be a teacher," Ross said, explaining that he admires Catto for standing up for others. "It's my favorite project because I learned about our heritage."
Anna Brewer has heard of Billie Holiday, the jazz singer.
She dropped out of school and started singing blues and jazz in New York City as a teenager, Brewer said.
"It's interesting that she's a singer," she said. "I love to sing too. She wouldn't let anyone stop her.
Dariella Lingan discovered Phillis Wheatley. She was born in Africa and sold as a slave as a child, but learned to read and write and became an accomplished poet. She is known as the first African-American author.
For more Black History Month stories from the Killeen Independent School District, visit https://www.killeenisd.org.