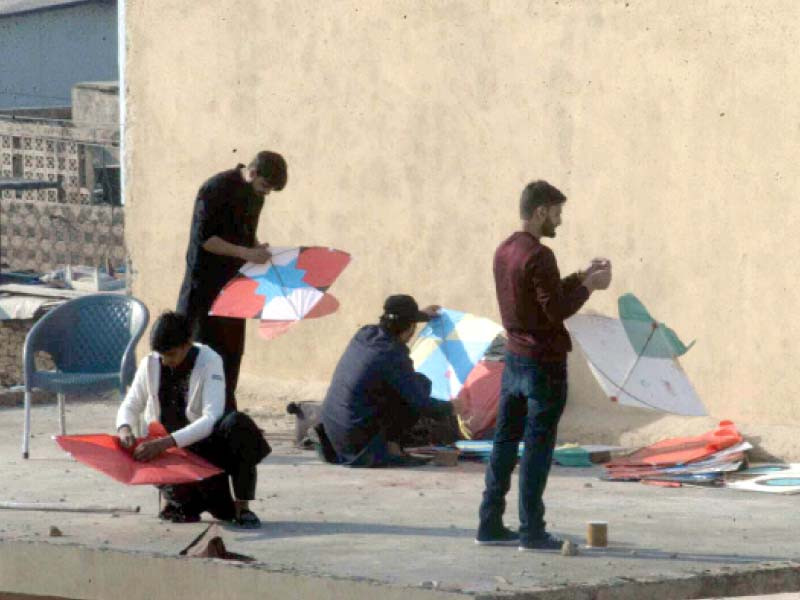 'Killer' chain claims life as Basant ban defied
CHAKJHUMRA:

A 50-year-old motorcyclist was killed when chemical ropes slipped down his throat on Friday.
Ikram Bari, who lived in Rehman town, Nishatabad, was on his way to D-type colony on his motorbike with his 25-year-old son, Manan Ikram, as his passenger was seated when the rope hanging under the underpass slipped on his neck, killing him on the spot due to excessive bleeding. Madina Town SP, M Aziz Sindu, People's Colony DSP, Jamshed Iqbal Nasir, People's Colony SHO, Rai Ifta Waseem, and other senior police officers arrived at the scene and handed over the body of the deceased to his family after necessary procedure.
The unfortunate incident happened because people defied the government ban on Basant and flew kites and celebrated the event with fervor. The scale to which Basant's ban was defied could be measured by the number of people arrested by police for defying the ban. An underage boy fell from the roof of his house while catching a kite.
To make matters worse, some daredevils even resorted to aerial shots while "celebrating" Basant. Police arrested around 442 people in raids on Friday and said they seized hundreds of kites, chemical strings and other items. A boy was injured by a stray bullet. Punjab Chief Minister Usman Buzdar, taking note of the matter, expressed his anger over the death of a motorcyclist and demanded a report of the incident from the Inspector General of Police, saying: "It is unfortunate that the kite has not stopped despite the ban. The police must strictly enforce the law and take adequate measures to control the kite".
Read: WATCH: Hundreds defy ban on celebrating Basant in Rawalpindi
Chief Minister Usman Bazdar also offered his condolences to the family of the deceased. Despite the ban imposed by the Punjab government, the Kite Flying Association had vowed to celebrate Basant on Thursday and Friday in Faisalabad.
Faisalabad Police Chief Ghulam Mubashir Mekan and district administration officers had formulated a comprehensive plan to prevent university students from celebrating Basant.
Police and district administration officers also carried out large scale operations in different areas but the people of Faisalabad continued to celebrate Basant.