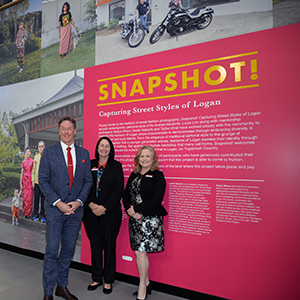 Inauguration of the new cultural spaces of the historic butter factory – Logan City Council
The final component of South East Queensland's newest and premier entertainment and cultural venue was officially opened today.
The Butterbox Theater and Logan Living Museum have been unveiled by Logan City Council and the Queensland Government as the latest attractions in the Kingston Butter Factory (KBF) Cultural Precinct.
The latest additions to the site's $22.5 million redevelopment were opened by Logan City Mayor Darren Power and Queensland Attorney General and MP for Waterford Shannon Fentiman.
Cr Power said the two new spaces would join the already open outdoor entertainment venue and green spaces, heritage centre, cafe and plaza to form the vibrant arts and cultural center known as KBF.
"This historic former dairy factory has been redeveloped through a project supported by Logan City Council and the governments of Queensland and Australia," said Cr Power.
"The redevelopment has created a multi-faceted arts and entertainment space that will provide amazing new entertainment options for residents and visitors to the City of Logan.
"We now look forward to the community experiencing KBF for years to come."
Minister Fentiman said the project was exactly what the $200 million COVID Works for Queensland program was designed to help councils achieve.
"This facility will have a hugely positive impact on the Logan community and was made possible by $6.57 million from the Queensland Government's COVID Works for Queensland program," Ms Fentiman said.
KBF was built in 1907 and by the 1930s was Queensland's largest butter factory – producing up to 50 tonnes of butter per week (about 90,000 tubs of butter in today's terms).
The facility ceased to operate as a dairy plant in 1983.
The first exhibits at the Logan Living Museum will allow visitors to see, hear and experience the stories of the people of the town of Logan and will include:
To feed features stories from Logan's kitchens, markets and gardens and highlights people's connection to food and each other.

Instantaneoust captures the street styles of Logan town residents through the eyes of local photographers mentored by Louis Lim.

The First Nations Space focuses on First Nations languages ​​and culture and the stories of Elders from the town of Logan.

factory stories was created by Logan City artist, Dr. Nicola Hooper, to provide an interpretive timeline of the history of the Kingston Butter Factory.

Multi-panel group portrait of Chrys Zantis ora of his year-long project with the Beenleigh International Cooking Group. People were asked to cook a meal that represented their home.
The Butterbox Theater will provide exciting artistic experiences including music, theatre, comedy, workshops, talks and insights.
Upcoming shows include:
July 14-15: Reflux by Shock Therapy – which explores the themes of mental health and relationships.

July 17: Sunday sunsets – 'speakeasy' – a cabaret production from the Roaring 1920s.

July 20-21: There's a sea in my room, based on the popular children's book.

July 28 – August 4: Brothers Book Club a play created by local young men from diverse cultural backgrounds.

August 9: THEIR – a story of survival, friendship and the things we are willing to do to protect those we love.

August 23-24: Hijabi Girl: a musical puppet showwhich explores differences and creative problem solving among school children.
More information on what is happening on both sites can be found at loganarts.com.au
Back to news list