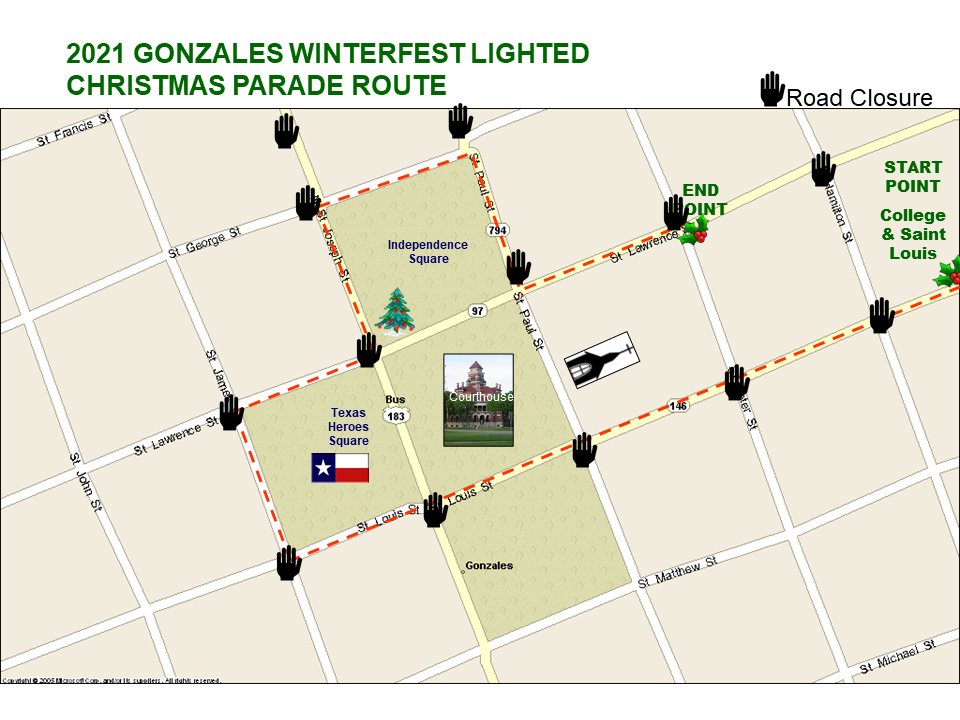 Gonzales is getting ready for Winterfest 2021
By LEW K. COHN, Inquirer Publisher
Gonzales Main Street and several local nonprofits are encouraging residents and visitors to come to downtown Gonzales to enjoy "lots of snow" for Winterfest 2021.
A wide variety of events await visitors and residents from December 3-5 as the holiday spirit returns to the community.
Friday December 3
• Shop big and small in downtown Gonzales, as businesses and restaurants will be open late into the evening to greet customers, said Main Street manager Liz Reiley. The Jingle Mingle will feature Christmas promotions at participating stores and restaurants.
• At 6.30 p.m., watch a free Christmas movie in Independence Square. This year it will be the 2018 animated version of "The Grinch", starring Benedict Cumberbatch as The Grinch, Rashida Jones, Cameron Seeley, Pharrell and many more. The Grinch is as much a part of Christmas tradition as Santa Claus himself. Please bring blankets, chairs and your families for fun.
Saturday 4 December
• Saturday will begin with Breakfast with Santa, sponsored by the Rotary Club of Gonzales, 9 am-10am at First United Methodist Church, 426 Saint Paul St., Gonzales. Santa and Mrs. Claus will be making an appearance for photos with the children. Breakfast plates will include pancakes, sausages and juice. Tickets are on sale at the Chamber of Commerce at a cost of $ 10 per plate.
• Meanwhile, the Gonzales Noon Lions Club will organize registration for its annual Winterfest Cook-off at the Alcalde Hotel, 614 St. Paul, from 8 am to 10 am. The Bloody Mary, Stew, Beans and Chili contests will be held at Texas Heroes Square at the corner of St. George and St. Paul streets.
The deposit hours are at 12:30 p.m. for Bloody Marys, 1:00 p.m. for Stew, 1:30 p.m. for Beans, 2:00 p.m. for Local Chili and 2:30 p.m. for CASI Chili. The registration fee is $ 15 per contest and judging will take place at the Alcalde hotel.
• Once again, Winterfest will feature an ice rink, SnowGlobe Live, and the Snowzilla Jr super slide. The ice may be artificial, but the fun is real! The ice rink, SnowGlobe Live and Snowzilla Jr. slide will be open from 9:30 a.m. to 9:30 p.m. at Independence Square.
A separate entrance is charged for these activities. All-inclusive bracelets are available for $ 15 per person. Gonzales Main Street offsets the costs associated with these activities through ticket sales and sponsorship revenue.
• The Christmas cookie decorating contest will take place from 10 am to noon at Independence Square.
• Come shop at the local Santa Claus Market or buy food from several food trucks. There will be ornaments, a fancy dress photo booth, face painting, a selfie station and more. Kids can stop by the Main Street kiosk to get materials to write a letter to Santa and send it to Santa's mailbox, which will be at the Gonzales Inquirer – the favorite newspaper of the "North Pole"!
• The Buggy Barn Museum of Blanco will offer carriage rides through the city center through the historic town of Gonzales from 10am to 4pm on Saturday and from 2pm to 6pm on Sunday. The cost is $ 20 and advance ticket purchases are highly recommended due to the limited capacity of carriage rides.
• Visit to the historic houses of Gonzales from 2 pm to 6 pm on Saturday and Sunday. Homes featured on this year's historic tour will include Belle Oaks Inn at 222 St. Peter, built in 1912; St. James Inn at 723 St. James, built in 1914; The JH Boothe House at 706 St. George Street, built in 1912; the Frank Fly House at 827 St. Joseph Street, built in 1914; the Fauth House at 521 St. Peter, with a construction date of 1868; and TN Matthews / JB Wells House, 833 Mitchell, built in 1885. Learn more in a separate article in this edition. This is a separate paid event.
• Studio E will hold a dance recital from 5 pm to 6 pm at Place de l'Indépendance.
• The "Stars in the Village" exhibit is open from 6 pm to 9 pm at the Pioneer Village Living History Center, 2122 N. St. Joseph St. Experience Christmas as if you were alive in the early 1800s. Activities include the making candles, popcorn and fire s'mores. This is a separate paid event.
• This year's Illuminated Christmas Parade will take place at 7:00 pm on Saturday December 4th. The first and second place prizes will be awarded to the winners of each category once the parade is over.
You can be a part of the parade by lighting up your floats, cars, vans, bikes, marching bands, motorcycles or marching groups and submitting a parade entry request and a $ 25 application fee. No registrations will be accepted after November 29th. For more information, email [email protected] or call 830-672-2815.
• Following the Illuminated Parade, there will be the tree-lighting ceremony downtown at 8:00 pm with Mayor Connie Kacir and the Royal Court of Miss Gonzales as well as pictured with Santa Claus. There will also be live music after the ceremony at 8:30 p.m.
Sunday 5 December
The ice rink will be open from noon to 6 p.m. on Sunday, while tours of historic houses and carriage rides will take place from 2 p.m. to 6 p.m.
For more information, visit bit.ly/gonzaleswinterfest or call Liz at 830-672-2815 or 830-203-1705
or send an email to [email protected]