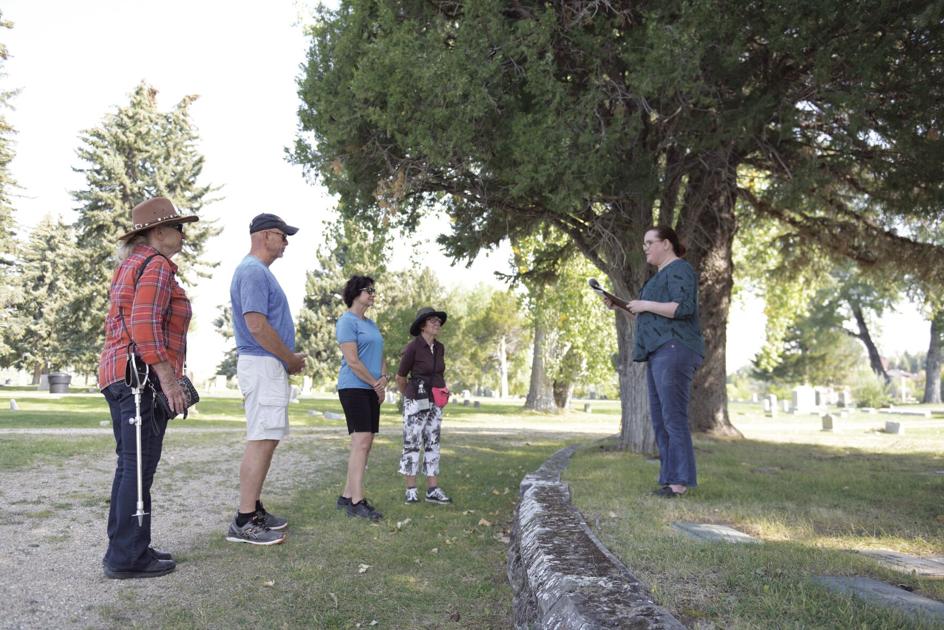 Cemetery Tours Keep History Alive | A&E
SHERIDAN – Sheridan County is a place rich in history where street names, building names and long-standing traditions can serve as links to a long forgotten past.
But "history has a way of turning people into signatures," according to Mikayla Larrow, executive director of the Museum at the Bighorns. Over the years, we remember the names and a few key details, but the rest can be lost and forgotten, even by family.
"We have found that some of our local families have unfortunately forgotten their family history, or that the details they do remember do not match the documentation we found," said Larrow. "It's a shame because these family stories are where the legacies come to life. But as we speak to family members who are three or four generations away from the person we are interested in, there aren't many memories left. "
For the past six years, the Museum at the Bighorns has helped people remember by offering tours of Sheridan Municipal Cemetery each fall. These tours offer windows to the past and reminders of the town's ancestors and notable personalities. The last of this year's tours, focusing on the history of local law enforcement, will take place this Saturday at 10 a.m. and 1 p.m.
"We're doing this to keep Sheridan's stories alive and to keep our voices alive," Larrow said. "It's very easy to look at a gravestone and say, 'It was just a person who died a long time ago.' But their existence was not that different from yours or mine. They have suffered disappointments and hardships. They had losses and triumphs. I think our ancestors have stories that we can all relate to no matter where we are in our lives. These stories remind us of what makes us human.
Jessica Salzman, museum collections manager, agreed.
"This is Sheridan's story," said Salzman. "It is important that we know where we come from as a city, because it can indicate where we will go in the future. "
The museum offered five different tours of the cemetery this month, starting with two "living history" tours in which volunteers played key figures from Sheridan's past. These tours were followed by trips focused on the symbolism of the tombstone; the "heavyweights" of Sheridan County who have had a major impact on its history; and local law enforcement.
Some of this year's tours have been in the works for two years, with museum staff choosing a theme, choosing people who match the theme, and researching those people by reading old historical documents and newspapers.
When selecting who to highlight, the museum chose recognizable names, but also made an effort to draw attention to people like Peter and Mary Kooi, benefactors of many local causes who have largely stayed behind. away from the spotlight during their lifetime.
"They have done everything they can to improve the community, but the only thing named after them is the college library," Larrow said. "But they had the very first meeting about having a YMCA on their porch and the same goes with the Boy Scouts. Peter had a saying that "you can do a lot of work if you don't care who gets the credit."
While working on her gravestone symbolism tour, Larrow was drawn to unique gravestones and often uncovered unique stories such as the story of Frederick Lewis, a local shepherd who served in the Canadian Army during the First World War.
"I looked for things that caught my eye," Larrow said. "And a military gravestone with a maple leaf on it definitely caught my eye. I love to share these kinds of unique stories with our community.
Whatever the story, the cemetery provides a unique place to bring history to life and share it with residents of Sheridan County, Salzman said.
"It's a lot more interesting than just sitting in a conference room," said Salzman. "When you visit the tombstones and see who they are buried near, it makes history come alive."
Graveyard tours serve as a fundraiser for the museum's education department, including providing funds for the museum's Tidbit activity series for children ages 6-10. The dollars also help fund the restoration of the museum's interactive exhibits, Larrow said.