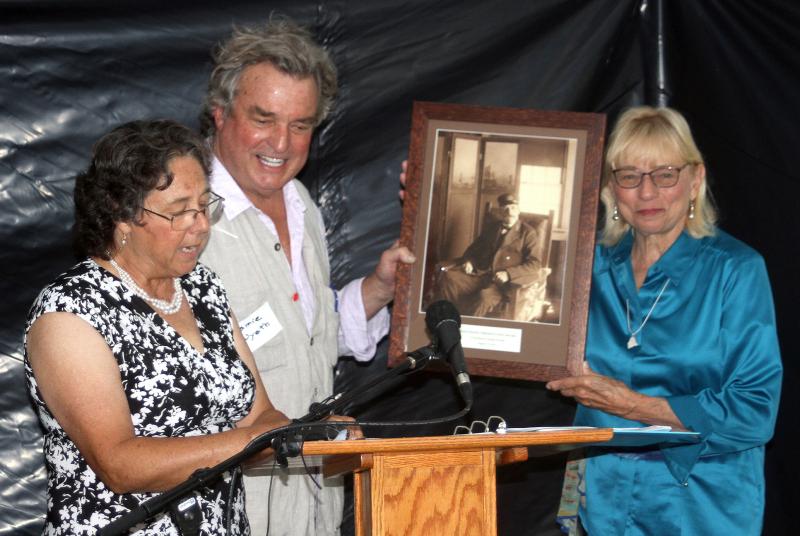 Celebration of the bicentenary of "the island of the people"
Burnt Island's Bicentennial Celebration paid tribute to former Guardians and their families; recognized donors, volunteers over the past two decades, Keepers of Burnt Island Light, docents / actors of the Living History Tour; former Commissioner Robin Alden and former Deputy Commissioner Penn Estabrook for their support and approval from the start; and Elaine Jones, whose vision, tenacity and passion for Burnt Island have fueled the restoration of the island and the development of educational programs for students and teachers – the heart of everything.
Several times Jones has been asked "what if it is raining?" Each time Jones replied, "It's not going to rain." It's not going to rain. It was raining. But not until everyone is in the tents for the ceremony.
Speakers were Governor Janet Mills, artist Jamie Wyeth, deputy principal of the Boothbay area elementary school and Matthew Lindemann, member of the Keepers of the Burnt Island Light (KBIL); KBIL President Adam Smart, Deputy Commissioner Meredith Mendelsen of the Department of Marine Resources and US Coast Guard Captain Amy Florentino. Acting Reverend Peter Ilgenfritz offered the invocation, and Suzannah Edwards, a sophomore student at Boothbay Area High School, sang the national a capella anthem.
Three lighthouse keepers were present: Randy Griffing (1974-1977), Stephen Pitchford (1979-1980) and Henry Sieg, the last keeper (1983-1988). Family members of the deceased guards were also present.
In his remarks, Mills said there was federal funding for experiential learning, some of which would allow students from the state to come to Burnt Island to learn about its history and what island life is all about. Mills said part of the federal relief funds allocated as part of his Maine Jobs and Stimulus plan will be used to upgrade the island's pier, floats and ramps and make them accessible to Americans with disabilities. ; increase equitable access to the island; and adding solar power to buildings, reducing energy costs and improving the island's overall sustainability.
Mills presented Jones with a plaque which included: "Special Recognition: For nearly 200 years, the Burnt Island Lighthouse has guided ships safely through Boothbay Harbor … and land, and raising funds to establish education center and living history program, Elaine Jones has created a one-of-a-kind experience here in Boothbay Harbor … Maine residents are grateful for Elaine Jones' commitment to preserving this enduring symbol of our State, and the strong and vital maritime heritage of our State. Ms. Jones protected the future of this historic site for the education and enjoyment of generations to come.
Jones thanked Mills and acknowledged two people who made it all possible: former Commissioner Robin Alden and former Deputy Commissioner Penn Estabrook. She said, "Remember that day, I walked into your office and said, 'Are you in a good mood today? Let's talk.'"
Introducing Wyeth, Jones noted that six of his paintings – "Lighthouse Dandelions", "A Murder of Crows", "Lighthouse Iris", "Lighthouse Garden" and "Iris at Sea" were associated with the Maine Lights program. Wyeth donated a limited edition of 300 signed prints to fund the start-up costs of the program. "Orchestrated by the Island Institute, it enabled the transfer of 28 lighthouses from the federal government to other organizations. Wyeth's support has been key to the acquisition and preservation of Burnt Island, and the key to many others who have been saved through this initiative. The program became the model for the National Historic Lighthouse Preservation Act of 2000.
"Recently, Burnt Island was once again touched by Jamie's generosity as a recipient of funds to cover unforeseen costs of replacing the boathouse and coal bunker roofs," Jones said. "This grant from the Wyeth Foundation put the finishing touches on the Keep the Light Burning campaign, a Keepers of the Burnt Island Light enterprise that has hopefully preserved this historic site for 200 years."
Jones and Mills presented Wyeth with an award for lighthouse preservation, Jones said: "It is very fitting that we are giving you a piece of lighthouse history. This photograph of Warden Joseph W. Jellison was taken around 1910 when he was the Tenant's Ninth Harbor Lightkeeper. (Wyeth has lived in the lighthouse for over 30 years.)
Wyeth told the crowd he came from Monhegan that day to celebrate Elaine, "the all-time multitasking," to whom he was introduced by his friend Rusty Court from East Boothbay. "When Elaine came to me and told me she needed help, it didn't take a lot of pushing. I love the headlights.
Some lighthouses are known to be haunted, and Burnt Island is one of them. A guard said he saw the ghost of Martha McCobb, wife of James McCobb.
Jean McKay spoke of the brainstorming she and Jones did in 1998 to try to find a way to educate children on the island. They decided that the program should feature a former lighthouse keeper and his family during their years there. With the help of Barbara Rumsey of the Boothbay Region Historical Society, they found Joseph's Muise's son, Willard, living in Boothbay Harbor. McKay visited Willard and his wife Gertrude and came up with a plan. He called his sisters and on June 4, 1999, Willard, Adele, Prudy and Ann returned to Burnt Island after 50 years, and gave McKay and Jones an oral history of their life on Burnt Island (1936-1951). The siblings also donated many of the household items they had when they were there and toys like Adele's die-cut dolls that are on the table in the living room of the Guardian's House. McKay said the sisters returned several times to coach the girls portraying them on the headlight tour, making their game so real.
Two of the people representing the sisters have been recognized: Beatrix Recoing-Tallen has been in the program for three years and Hannah Hills has started in second year and will be in first year at BRHS this fall. McKay also acknowledged Karen Grindall, who since 2014 has helped McKay rehearse and recruit girls to school. Grindall also sewed all the costumes for the Muise girls.
Lindemann spoke of his experiences with Burnt Island when in fifth grade at Weatherbee School in Hampden, he attended one of the student camps. His teacher, Susan O'Brien, was Jones' collaborator in developing this program. "The student experience at Burnt Island is unlike any other. I learned about the natural resources, fisheries, ecosystems, lighthouses, geology and much more of the coast of Maine. Each day offered new opportunities for me and my classmates, such as pooling the tides, compass hikes, making fishprints, survival skills and climbing a lighthouse tower. the night. None of these experiences can be replicated in a standard classroom. I look forward to accompanying the students of Boothbay and Boothbay Harbor on their first trip to Burnt Island. It is essential that these experiences continue over the next two decades – and beyond – to honor Burnt Island's incredible 200-year history, the incredible restoration work that was carried out over the past year, and the work and the tireless dedication of Elaine Jones to developing these great programs.
Steve McCullough, son of warden James "Red" McCullough, still vividly remembers being responsible for activating the steeple / fog signal – and Christmas on Burnt Island. The (Maine Seacoast Mission) Sunbeam came to drop off gifts for the whole family. One evening, after shopping in Portland, we came back to the island with gifts in our peapod. It was high tide, but we somehow missed the slip and capsized. I lost all the presents … except my soccer ball, "he said with a laugh." And I threw that on the ground! "
Jones congratulated all of the volunteers over the past 23 years who have been instrumental in achieving his vision for the island. These included master gardeners Susi Hamblen (on board every 23 years) and Linda Redman; Jacks of all trades: Roger Young, Bill Cooney, Frank Redman and Benny Borkowski; Teacher Course Participants: Carolyn Nichols, Jana Diket, Sarah Shelley, Celeste Bennis, Deb Clark, Libby Zipperer and Dawn Kinealy; the port of USCG West Boothbay; Iconic volunteers, AmeriCorps, frequent visitors to the island and Jones' family – her husband Jeremy and children Tamara and Gregory.
"The thing about it is that there have been so many wonderful people who have been unsung heroes; who have been here by my side and supported me all the time," Jones said. "More $ 500,000 has been raised in four years by this community – and beyond; to see all the work done in time for today is a dream come true. Burnt Island is the light of the people. Burnt Island has given back to the public in so many ways and people have given back by giving it back its full glory in time for its bicentennial. "