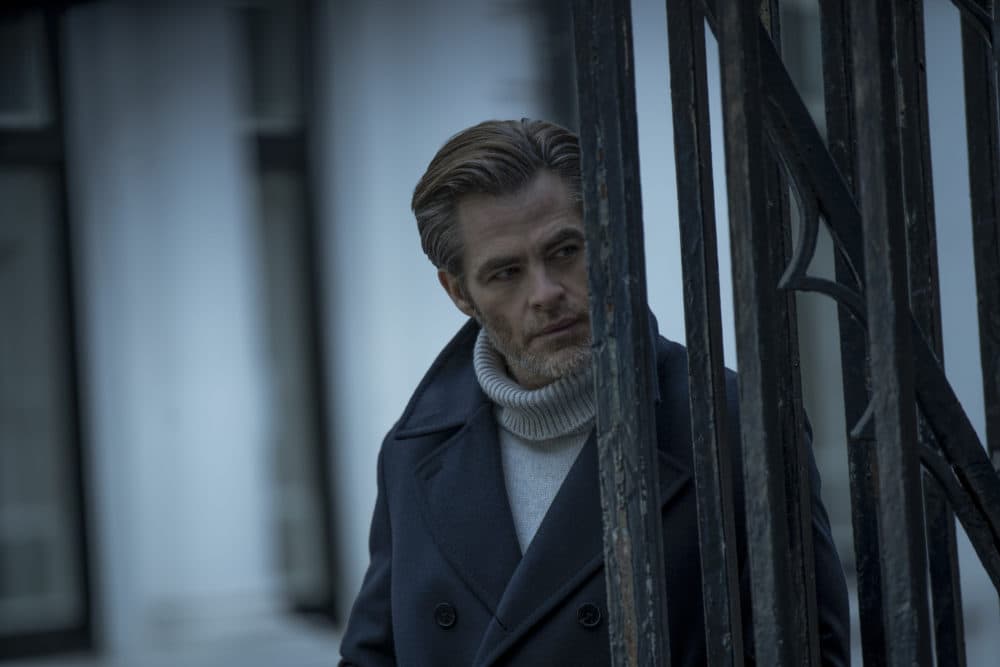 A double dose of Chris Pine at the cinema
In a time not too long before ours, Chris Pine would have been much more important. Not to say he's not doing well for himself now, even if it means being lumped in with the other handsome Hollywood Chrises (Evans, Hemsworth and Pratt), competing for less-than-challenging franchise roles. But what Pine brings to the party is, I'm afraid, not particularly popular right now in American commercial cinema, or what's left of it. He's able to project a grown intelligence and straightforward masculinity that you can't quite imagine coming from those three other doofus, who, like so many contemporary stars, remained juvenile into middle age. Pine also seems perfectly at home with his rather silly good looks, relaxed on screen with an easy confidence that, if not quite in Paul Newman and Robert Redford's neighborhood, at least resides in the same zip code.
That throwback quality is what made Pine a perfect Captain Kirk in JJ Abrams' recent "Star Trek" reboot (which, like so many Abrams projects, started off brilliantly before revealing that he didn't had nowhere to go). The actor deftly modernized the Playboy era of swaggering William Shatner, making him relatable and accessible to today's audiences while still being the guy who sits with his legs so wide apart because he couldn't close them. he wanted it. Pine gave an equally fun performance in 2017's "Wonder Woman," knowingly playing beefcake sincerity in a genre that doesn't usually leave much room for character work. (See its sad sequel for proof. Or not.)
In a quirk of post-pandemic film programming, Pine has two pictures opening right now, two favorite projects the actor has helmed over the past few years. Unsurprisingly, given the anachronistic charms of their executive producer, both are the kind of movies you don't see very often anymore. "All the Old Knives" is a brilliant international spy drama with handsome actors falling in love in exotic locales, weaving their way through a winding plot based on a bestselling novel. "The Contractor" is a vulgar action picture with a harsh social conscience. They're both thoughtful, modest-budget star vehicles aimed at adults, the kind of films that did a lot of business in multiplexes with afternoon crowds, opening in fourth or fifth place for the weekend. before making most of their money at home video. They're also both just good enough to make you wish they were better.
"All the Old Knives" stars Pine as a haunted former CIA agent, called back to his old office in Austria to re-investigate a disastrous airline hijacking that took place in their territory. eight years ago. New evidence indicates there may have been a mole in their operation, and Pine's sensible superior (Laurence Fishburne) sends him to interview the most likely suspect, an idealistic office mate (Thandiwe Newton) with whom our hero had had an affair. . The two reunite at an impossibly chic wine bar in Carmel-by-the-Sea, with director Janus Metz basking in the sunsets on the Pacific Coast Highway and the fancy clothes worn by his snazzy stars. (It's a four-star movie for turtleneck fetishists.)
Adapting his own novel, Olen Steinhauer straddles flashbacks and conflicting accounts of the operation in question, with a sometimes confusing timeline made clear by the length and color of the cast's hair during the scene you're watching. Pine is excellent as a loving, regretful thug, even though most of Metz's guidelines seem to be that he and Newton look at each other across the table in the most "sexual" way possible. It's the kind of role you could see Redford playing 40 years ago in a movie that would have had a bigger scale and a few extra twists. "All the Old Knives" has a doozy ending, but it goes flat for quite a long time before it comes to that.
"The Contractor" starts about as well as "All the Old Knives" ends. Directed by Tarik Saleh, the meat and potato shoot 'em up stars Pine as one of those special forces super-soldiers so common in movies these days. (What happened to ordinary grunts?) After blowing his knee on one of four overseas tours, Pine's stalwart sergeant is busted using an illegal painkiller to stay in shape and dismissed without his pension. Unable to feed his family, he turns to an old Army buddy (Ben Foster) who puts him in touch with a sleazy private military contracting agency run by Kiefer Sutherland. How shaded? Did I mention it's directed by Kiefer Sutherland?
The first half hour of the film is exceptionally strong in its depiction of honest men rejected by their country, doing whatever they can to get by. Their unit's ranks have been decimated by suicides that Pine and Foster only refer to obliquely, communicating in the gruff, conversational shorthand of two guys who've seen too much together and agree to discuss it no more, thank you. It's a welcome reunion of these two actors, who so memorably played bandit brothers in the great "Hell or High Water," tearing up branches of the Texas bank that was trying to seize their mom's house, paying the crooks in white collar with their own money. This formidable image from 2016 had its finger on the pulse of the political and economic turmoil at the heart of the country, understood by too few people in this country at the time. But by reuniting Pine and Foster again, we write a check that "the contractor" is ultimately not interested in cashing.
What begins as a drama about the plight of our veterans quickly turns into nonsense after Pine is double-crossed and left for dead due to the weaponized swine flu virus vaccine that was stolen by Sutherland. All the film's evocative details of post-military life in America are ditched in favor of ridiculously improbable machine gun shootouts in bustling European locations where heavily armed henchmen can't seem to punch the side of a barn. It's like "Coming Home" suddenly changes form into a revenge image of Liam Neeson. "The Contractor" leaves you daydreaming about all the wasted promise of its opener and the unfulfilled promise of its leader.
---
"All the Old Knives" opens at Kendall Square Cinema and begins streaming on Amazon Prime on Friday, April 8. "The Contractor" is now playing at AMC Boston Common and is available on demand.