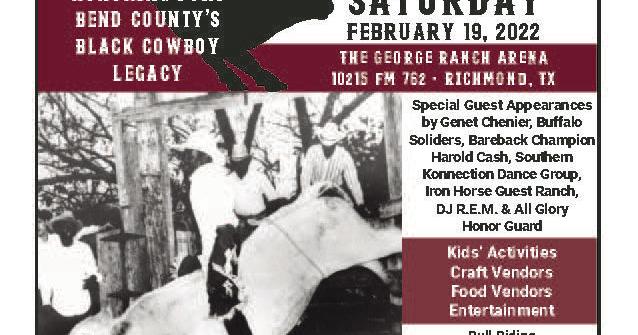 3rd ANNUAL GEORGE RANCH RODEO IN TRIBUTE TO THE BLACK COWBOY LEGACY OF FORT BEND COUNTY | Community
RICHMOND – Discover the lasting legacy of African American cowboys in Fort Bend County history on Saturday February 19, 2022 at the third annual George Ranch rodeo! With all the favorite rodeo events (including bull riding, team lassoing, and horseback riding) plus kids' activities, entertainment, and vendors, this rodeo will be a fun day at the Ranch like no other!
"For over 100 years, black cowboys have played a vital role in the farming operations of Fort Bend County. At the George Ranch in particular, four generations of Black Cowboys have worked alongside four generations of the George family, leaving behind a rich Black Cowboy heritage unique to this part of Texas, "said Claire Rogers, Executive Director of Fort Bend. History Association. . "The rodeo was born out of a desire to celebrate the skills and contributions of these extraordinary people.
This year's event will showcase the history of black cowboys in Fort Bend County with a special spotlight on the Buster Jackson and Robert and Catherine Jackson families who were integral to the successful cattle operation at George Ranch. .
Fort Bend History Association board member Debra Greenwood-Sharp said she was thrilled to see the breeding and rodeo accomplishments of these families presented to the community.
"I am grateful – and so grateful! – to have the opportunity to share and promote the legacy of the many black cowboys who have traveled history here at George Ranch and elsewhere in Fort Bend County, "she said.
The rodeo will feature special guests from Genet Chenier, DJ REM, Southern Konnection Dance Group, Iron Horse Guest Ranch, Buffalo Soldiers and All Glory Honor Guard. Rodeo events include Bull Riding, Ladies Barrel Races, Steer Wrestling, Calf Roping, Ladies Steer Undressing and Team Roping. Rodeo events for kids include sheep slaughter, barrel racing, breakaway and stowage. The slack starts at 11 a.m. with the grand entrance at 6.30 p.m. and the show time at 7 p.m.
"Our committee has worked tirelessly for months to ensure a fun and exciting day here at the ranch," said Greenwood-Sharp. "You won't want to miss it! "
Presale tickets are currently available online. General Rodeo tickets include entrance to the Arena only; Advantage seats include entry to the arena and the historic park. The pre-sale general admission cost is $ 5 for children ages 4 to 12 and $ 15 for adults. Advantage seats, which include admission to the historic park, are $ 12 for children aged 4 to 12 and $ 30 for adults. General admission tickets at the door are $ 10 for children ages 4 to 12 and $ 20 for adults. Advantage seats at the gate, which includes admission to the historic park, are $ 17 for children aged 4 to 12 and $ 35 for adults.
TO REGISTER FOR A RODEO EVENT:
The contractor in stock is RRJ Rodeo Enterprises. Registration is only possible by SMS from February 14 from 6 p.m. to 10 p.m. Text 281-217-3951 to participate. Up-to-date negative Coggins are required; please bring an extra copy to the event. Major events cost $ 65 with $ 3,100 in extra cash. The slaughter of the sheep costs $ 30; junior / peewee events cost $ 30.
Tax Tech, Inc. • Patton Insurance and Financial Services • CenterPoint Energy • Law Office of Brian Knipling • Smith, Murdaugh, Little & Bonham, LLP • Boyd Ministries • Earnest & Debra Greenwood-Sharp
Co-Chairs: Debra Greenwood-Sharp and FBC Commissioner Grady Prestage
Jan Billups-Meitzen, Constance Bowie, Sierra Bowie, Paula Boyd, Mary Miller, Lauren Soliz, Patti Parish-Kaminski, Brenda Patton and Cee Cee Parker.
George Ranch Historical Park is located at 10215 FM 762 in Richmond. General admission to the historic park is $ 15 for adults 13 and over, $ 12 for people 65 and over, and $ 10 for children 4 to 12. Children three and under are free. Hours of operation are Saturdays, 9 a.m. to 5 p.m. For more information, visit www.georgeranch.org or call 281-343-0218.
George Ranch Historical Park is a living history museum that showcases Texas history from the 1830s to the 1930s. The park is anchored by four different visitor sites: the 1830s Jones Farm, the Ryon Prairie House 1860s, 1890s Victorian Davis Mansion and 1930s George Ranch Cattle Complex. Regular activities include tours of historic homes, living history demonstrations, hands-on activities, cattle-working demonstrations and tub soaking and more! Guests should allow three to four hours to visit the park and should dress for the weather.
George Ranch Historical Park is a living history partnership between the Fort Bend History Association, a 501 (c) 3 nonprofit, and the George Foundation, a Texas Charitable Trust.